Several NFL players have protested during the US national anthem before pre-season games.
Philadelphia Eagles' Malcolm Jenkins and De'Vante Bausby raised a fist, as did San Francisco 49ers' Marquise Goodwin and Miami Dolphins' Robert Quinn, while his team-mates Kenny Stills and Albert Wilson kneeled.
The NFL says plans to fine players for anthem protests have been put on hold.
Ex-49ers quarterback Colin Kaepernick was the first to protest in 2016.
Players who refused to stand during the Star-Spangled Banner said the protests were against police brutality of African Americans and the demonstrations led to criticism from President Donald Trump.
From one man kneeling to a movement dividing a country
"I just think it's important to keep this conversation going, that we don't let it get stagnant," said Jenkins after the Eagles' 31-14 loss to Pittsburgh Steelers.
"Everybody's kind of waiting to see what the league is going to do. It's just my personal decision to keep these things at the forefront."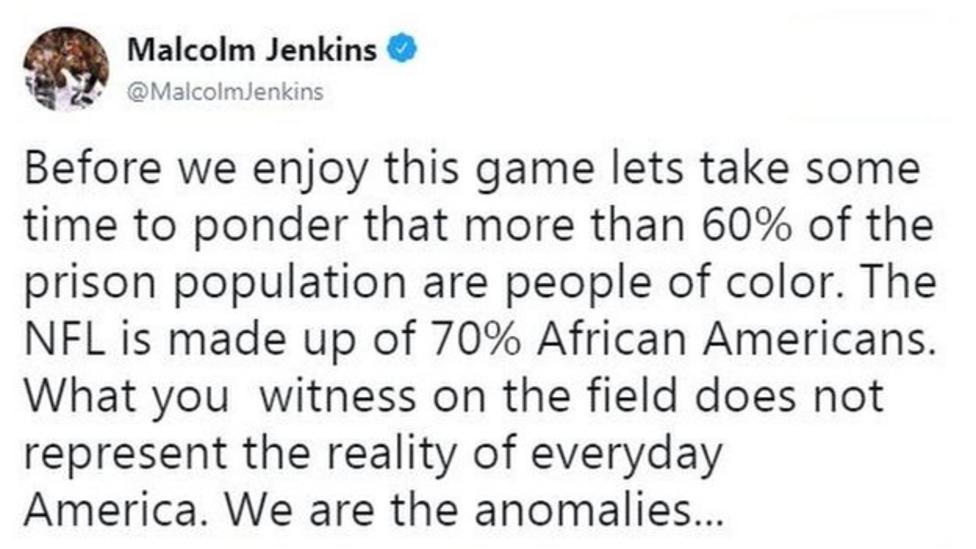 The NFL says it's anthem policy is on hold while it holds discussions with the NFL Players Association.
It reiterated that players who do not wish to stand during the anthem should stay in the changing room.
The governing body said: "The NFL has been engaged in constructive discussions with the NFL Players Association regarding the anthem and issues of equality and social justice that are of concern to many Americans.
"While those discussions continue, the NFL has agreed to delay implementing or enforcing any club work rules that could result in players being disciplined for their conduct during the performance of the anthem."