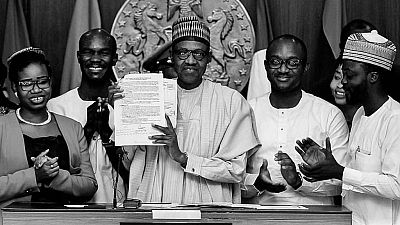 The minimum age for a Nigerian to run for political office has been reduced to twenty-five years from the previous thirty years cap. This follows the signing into law of the #NotTooYoungToRun bill.
President Muhammadu Buhari signed the law at the presidential villa in Abuja flanked by a number of young advocates who vigorously campaigned for the bill.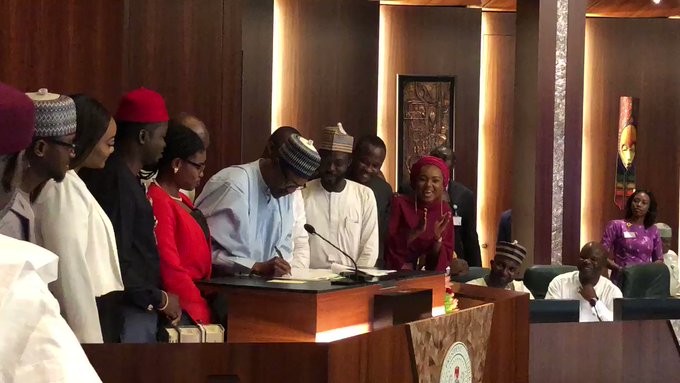 Of the four main political offices: Presidency, Governorship, Senate and House of Representatives / State House of Assembly – twenty-five year olds are now eligible to contest only at the level of the House of Representatives – which is the lower house of the National Assembly. They can also contest for seats at the State House of Assembly level.
The law altered sections 65, 106, 131 and 177 of the 1999 Constitution allowing the reduction of the age of eligibility for elective offices across the board, and to introduce independent candidacy to the electoral process.
Under the new law, the minimum age of eligibility for the elective offices will be modified as follows:
The Presidency eligibility age will fall from 40 to 35 years
Governorship – 35 to 30 years
Senate – 35 to 30 years
House of Representatives and State House of Assembly – 30 to 25 years.
Whiles addressing Nigeria's youth parliament a year ago, Speaker of the House of Assembly, Yakubu Dogara, stressed that the bill at the time was long overdue because the need for active youth participation in politics was rife with a bulging youth population.
He, however cautioned that the law will not immediately end the marginalization of the youth, but that it will open more political opportunities for them. He said Nigeria had to tackle the issue of youth unemployment which he described as a nightmare to lawmakers.
"It is also my strong view that creativity and innovation are critical elements in engendering economic growth and development. Indeed the world is open for the youths to excel, especially in the area of technological development.
''Nigerian youths can compete strongly in the technological field in the new world economy. We only need better technological education, funding and exposure to best practices," he said at the time.
Source: Africa News