LAGOS— Permutations by high-level stakeholders opposed to a second term for President Muhammadu Buhari have gravitated towards three North-West politicians, Governor Aminu Waziri Tambuwal, Senator Rabiu Kwankwanso and former minister of special duties, Turaki Tanimu.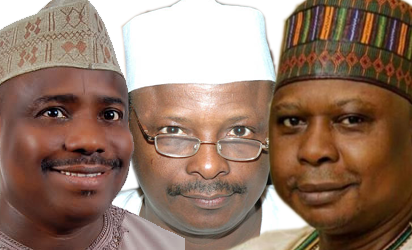 While Governor Tambuwal and Senator Kwankwanso have for long been on the radar, Vanguard has learned of increasing gravitation towards Tanimu by high-level stakeholders who see him as lacking the kind of baggage dogging others, including Tambuwal and Kwakwanso. Despite reports that some influential generals, who had played similar roles in the past, had endorsed him, Vanguard learned that former president, Chief Olusegun Obasanjo is, however, drawing back, having apparently stuck his neck out for Senator Kwankwanso. Among those said to have endorsed him are also several emirs who were said to have also been moved by an influential North-West traditional ruler. "Obasanjo has been briefed on him, but he is holding back," a source privy to the development told Vanguard. An associate of Obasanjo's did not hide the former president's preference for Kwankwanso. "Even the manner of his (Tanimu's) entry into the contest inspires suggestions of some high-level influence pushing his candidacy," another source privy to the development said. Tanimu's original aspiration was to be governor of Kebbi State, a source close to him told Vanguard. "But you know that Shehu Shagari's original aspiration was to be a senator, but the principalities were able to nudge him towards the presidency, and that is the same pattern we see with Tanimu," a Northern Nigeria-based political player who is already enmeshed in the Tanimu campaign told Vanguard.
            Obasanjo's determination on Kwankwanso, a source close to him told Vanguard is not just based on the long-running political association between the former president and the former Kano governor who also served as a minister in the Obasanjo administration between 2003 and 2007. "Kwankwanso is someone like Buhari, a northern irredentist who will appeal to the same political base as Buhari and that is one reason counting for him," an Obasanjo ally said. Besides the association with Obasanjo, also counting for Kwankwanso is the extensive political machine he has been able to build since his last days as governor of Kano State. The governor-turned-senator, despite being out of Government House has been able to sustain his political structure across the country, holding regular meetings with political co-ordinators in many of the states.
Those fronting Kwankwanso, Vanguard gathered, believe that unlike Buhari, his irredentist inclinations could be better managed given that his views are not new to political stakeholders. "We know him, and the worst of him is not worse than Buhari; he is well educated, and going into the presidency we can be better prepared to get our agreements with him better than those who burnt their fingers with Buhari," a Southern politician involved in the Kwankwanso arrangement told Vanguard.
Whatever momentum Kwankwanso had, Vanguard gathered may have been derailed with the entry of Tanimu into the contest at the instance of former PDP ministers and some former governors. The Tanimu aspiration, it was gathered, has been successfully taken in by former President Goodluck Jonathan and at least two former military leaders from the Middle Belt and the Northern establishment. "Tanimu is the dark horse," one of his canvassers said as he pointed out that the Buhari administration has not been able to link him with any of the alleged corruption acts that has been traced to several aspiring presidential aspirants. "Tanimu, despite being the minister from Kebbi State did not collect the election money for the state as it was left for a former national officer from the state," the canvasser said, adding that pressure by the Buhari administration on other PDP presidential aspirants will amount to nothing in the case of Tanimu. The momentum for Tanimu has inevitably put canvassers for Tambuwal at odds. Governor Tambuwal with a nationwide support base consisting of mostly former and serving members of the House of Representatives was the face of many who believed in a young and dynamic northern politician to confront Buhari. However, his past political infidelity has bothered some, especially some die-hard PDP enthusiasts. "How can we empower the man that helped drive us from power?" one PDP enthusiast queried.
MAIL TO: https://www.vanguardngr.com/2018/05/2019-presidency-emirs-generals-back-tanimu-tambuwal-kwankwaso/